We're excited to announce the release of our new Stampin' Up! photopolymer stamp sets! Photopolymer stamp sets are transparent stamps that can be placed on Stampin' Up!'s regular acrylic blocks, and the transparent nature of these sets makes it easier to line up what you are stamping without the need of a guide.

From 1 May until 31 May, earn a free set for every order of 75 € /£60 worth of other products.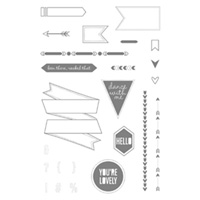 Show & Tell 1 Photopolymer Stamp Set

133450




Price

: £12.95


Show & Tell 2 Photopolymer Stamp Set

133481




Price

: £12.95


Eye-Catching Ikat Photopolymer Stamp Set

134624




Price

:

£12.95




Sans And Stripes Photopolymer Stamp Set

136796




Price

:

£12.95


I'll be happy to take your order or order online to get yours faster!
All links to the online shop in the righthand sidebar.

Don't miss out on your FREE set!